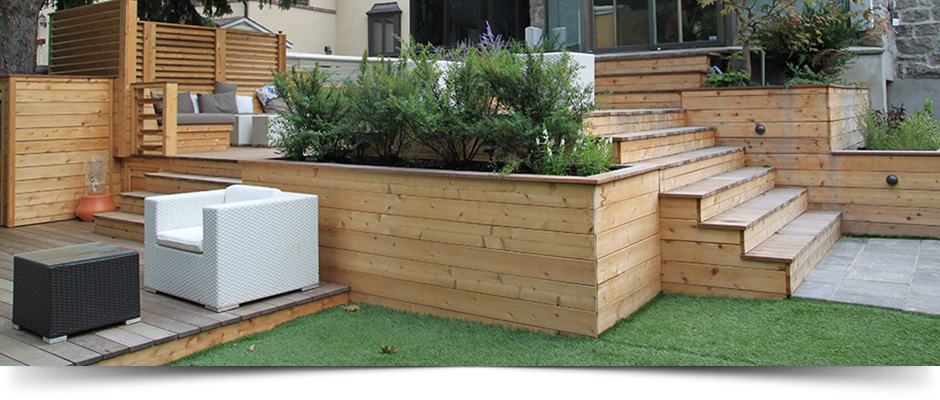 Trex Decking & Railing Design
At Montreal Outdoor Living, our team is especially trained and certified with the Trex Pro Platinum certification to properly install composite wood terraces. Composite wood deck are very advantageous over natural wood decks which require much more care and upkeep. Trex decks are virtually maintenance free except for the occasional cleaning. Our composite patios are also ecologically friendly as they are made of recycled materials such as plastic and wood. Since our team is trained to install these modern decks we can customize the shape and size of the terrace to suit any of the client's needs. Buying a composite deck instead of natural is more costly initially but it is money that is easily invested when you think of how much less maintenance will be necessary to upkeep your patio. Finally, composite wood offers a uniform coloring that is evenly beautiful throughout its surface.
Modern Cedar Terrace
Although our team is well versed in all modern material applications such as composite wood, it is sometimes necessary to use hearty materials that have a more grounding and natural quality. Cedar is a beautiful wood that is often used by our teams to create patios as well as the seating areas that are integrated into them. The light weight qualities of this wood make it ideal for rooftop terraces where excess weight is a serious concern. Using natural materials gives off a whole hearted beauty that can seldom be imitated, also by using the same material for the patio, the fences, and the seating area brings a unifying tone to the terrace that can be appreciated by any whom delve upon it.