Other Montreal Outdoor Living Construction Services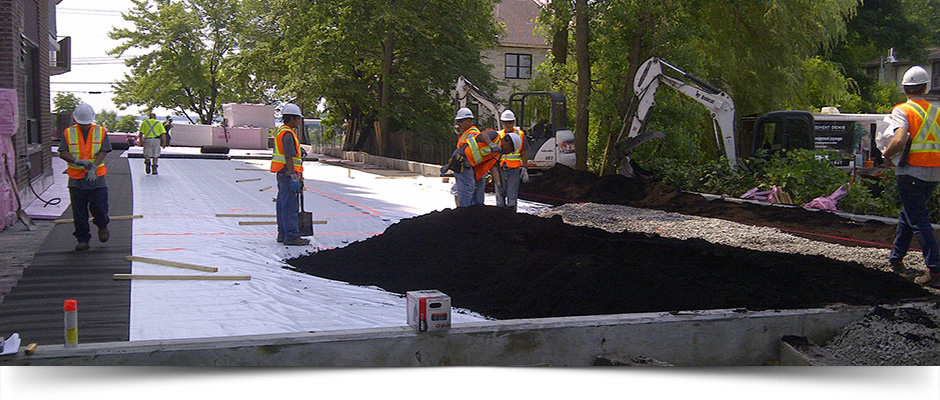 Carpenting team services


All of Montreal Outdoor Living's construction services are handled by our specialized field team whom have all been formed to create or customize anything our clients could dream of. After we have successfully come up with a design that fully satisfies the client it is time to built his future haven. Our team of highly trained experts are trained to handle any and all challenges that are to be encountered; and are prepared to make custom built pieces to accommodate the clients vision. Utilizing mostly local and ecologically friendly materials our workers are trained to use a wide variety of construction techniques and materials.
Construction possibilities:
– Timber decking/patio
– House/terrace and Extensions
– Balcony and Porch
– Modern Seating Area
– Rooftop terrace
Fence Installation:
By choosing Montreal Outdoor Living, you gain access to several teams of dedicated individuals each with their own specialties regarding the choice of fences; as one team is certified for glass fences, the other in concrete pouring, etc. All this guarantees maximum quality and effectiveness from our employees and their work.
Fence possibilities:
– Glass Fence
– Wooden Fence
– Molded Concrete Fence
– Iron Linked Fence
Glass Fencing & Glass Railing
The glass railing products are integrated with landscaping projects trendy. They fit together perfectly with all styles. The glass railings are both classics, but they can also provide a contemporary, modern look to your project. They are really ideal around pools because they allow perfect visibility from all angles. The addition of glass rather than another material is interesting, since it gives a size effect, it allows light to pass between different areas of the landscaping. A railing around a pool should never obstruct the view and should certainly never hide the layout of your pool.
Modern Gabion Solution
A highly innovative technique of construction which is widely popular in Europe but is just now starting to hit our shores is called gabions. This essentially describes the technique of taking pre-shaped iron cages and filling them with rocks to isolate and hold whatever shape has been chosen. Due to its relatively simple concept and the fact that any shape can be filled using this method, gabions are a highly versatile way of adding a little something different to your home. Using this technique, our team can create benches, fences, water installations, or even walls which also happen to be very eco-friendly as mortar is absolutely not required with this technique.
Modern Versatile Shade Systems
Our modern versatile shade systems offer wide variety of different shades that are offered in many shapes and sizes. These contemporary awnings are custom designed to suit the requirements of the clients by giving all the shade and isolation that is necessary while still giving a sense of being in an open space. Our shades can be fitted to be permanent, retracting or demountable. Our minimalist shade system is composed of PVC mesh fabric which has been weather treated to ensure low maintenance.
Outdoor Heating System
An outdoor heating system is a must-have for any terrace that is to be used at all hours. Not only does is allow a patio to be used at different times of the day or many seasons throughout the year. Montreal Outdoor Living exterior heating systems are tested in rigorous conditions to ensure their sustainability during the passing of the elements. Additionally, our heaters are specifically suited to our needs from the comfort interior heating to the snow and ice controls of the exterior suited systems. With the help of our team, you will custom design your own system of heaters with individual attributes that vary such as 30 or 60 degree heating radiuses, types of metal used, and much more to create the outdoor comfort system that is perfectly suited to fulfill your needs. Our modern heating system also has the advantage of environmentally friendly electrical energy consumptions rather than natural gas.
Water feature
Montreal Outdoor Living can create for you custom water features that fit each of your projects. They are conceptualized by custom designers of Montreal Outdoor Living, depending on your style and needs. Water walls are structural elements of landscaping and can even become pieces of art according to the materials and the model chosen. The wall of water, depending on its location and other elements of landscaping, can be the focal point and become the key space.
A range of option is available to you. Among these, you can choose to integrate the wall of water to your pool or to integrate it as an independent element of landscaping. Depending on your choice, the effect will be different, but one thing is certain, the atmosphere that this element will create will certainly be interesting. Depending on the materials chosen, the effect of water flowing on the walls will be different, but still attractive.
We can add lighting to your project wall of water and it will become the focal point once in the evening. The noise of the waterfall will probably allow you to relax and enjoy your space to the maximum.